Alaska Fly-Out Fishing Trips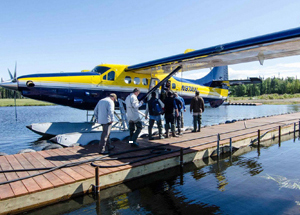 Fly-out fishing can only be described as a world of its own. Literally every sport fish found in the state can be accessed by floatplane within two hours from the lodge. Our day trip fly-outs are for Sockeye from early June to late July where brown bears will be fishing next to you. Our most popular late summer day trip fly-out is for fresh ocean-bright Silvers entering a coastal stream beginning in late July to the end of August. Learn about our Single Day Fishing Charters.
Alaska West Air Charters
Tower Rock Lodge is proud to have a winning partnership with Alaska West Air, which has conducted business on the Kenai Peninsula since the early 1980's. All of our fly-out charters are done through Alaska West Air (907- 776-5147), located a short one hour drive from Tower Rock Lodge. Don't forget your camera!
We feel that Alaska West Air provides the very best in Alaskan fly-out adventures. They are a fully insured, FAA approved Alaska Air Charter operator. Their fleet of high performance aircraft includes a ten passenger DeHavilland Turbine Otter, a nine passenger DeHavilland Turbo Beaver, two seven passenger DeHavilland DHC-2 Beavers and two Piper Super Cubs. The Bell Ranger helicopter can be arranged for special King trips.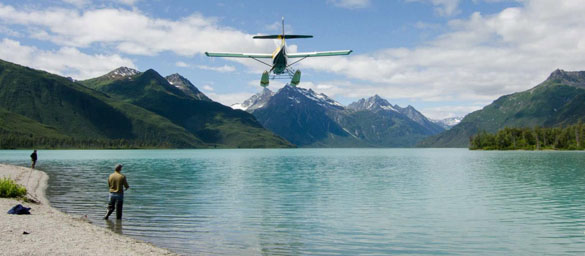 Fly outs can be crowded especially during July, If you want exclusive use of a float plane or heli all day, we can make the arrangements. Charter costs are determined by time and aircraft used.
All Rights Reserved. © 2010 Tower Rock Lodge