Alaska King Salmon Fishing
Alaska King Salmon Fishing Techniques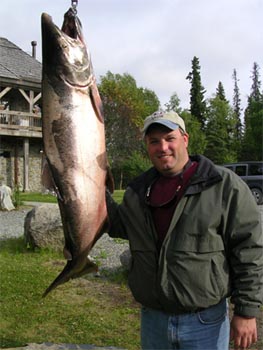 The fishing guides at Tower Rock Lodges are experts at fishing for Kings in Alaska. Here is their insight:
"There are really only two consistent ways to put these fish on the hook: back-trolling and back-bouncing. Back-trolling consists of sending out diving baits (plugs, salmon eggs) and holding the boat in the current so that the bait dives down against the river's flow. The boat is positioned above the hole then slowly slides down until the gear gets into the money spot. Wait until the rod buries and the line peels before striking the fish.
Drifting (back-bouncing) is totally different. This involves attaching a fair amount of weight to your line and sending a freshly cured (our own secret brine) chunk of King roe, combined with a large Spin N' Glow down to the river's gravel bottom where it drifts in unison with the river current until an unusual bounce conveys that the King Salmon is bumping the bait. When the fish bites, lower the rod and then HAMMER the fish! It is the method most widely used by our boat guides and hangs a lot of huge fish."
Kenai King Salmon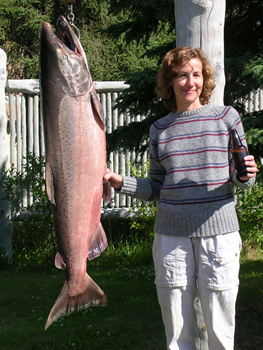 Fishing Regulations
One fish per day, two per year. No fishing after retention.
Single hook, bait (tba)
Closed to guided fishing on Sundays and Mondays.
Early Run
May 1st - June 30th
The first run of King Salmon appears by early May when the Kenai River is low and very clear. The low level of the river during this period tends to concentrate the fish in deep holes in the Tower Rock Lodge area, and each tide will bring another group of fish into the river. The river's early King Salmon average between 30 and 40 pounds with occasional catches of 60 or 70 pound fish. The current world record (97 1/4 pounder) was taken from the May-June early run.
The size of this run is smaller than the second run, but with fewer anglers and boats participating in this fishery, the experience can be much more pleasant. The tranquility of the river during May and June provides our anglers the chance to view wildlife such as moose, caribou, bald eagles and waterfowl. This run usually peaks during the middle of June but remains strong in daily counts until the second run of Kings begins to appear at the end of June.
Late Run
July 1st - July 31st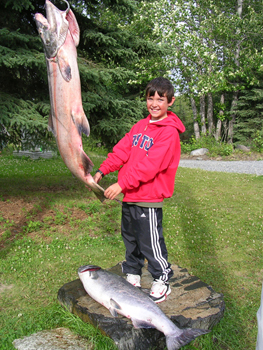 The late run that begins on July 1 averages about 40,000 fish and unlike the early run, bait is always allowed. Lower River spawners below the Soldotna Bridge will take eggs or a "pork chop" which is a quick fish with a sardine wrap. Use a #40 main line, #80 leaders, #20 Jet planer and back troll. Wait until the rod totally buries, then double strike with no thumbs and reel like a badger out of hell.
Because this second run of Kenai Kings occurs in the middle of summer, it is the most popular with anglers. Although there are two to three times more fish in this run than the early run, there are also more anglers & boats so competition increases. This fishery allows the use of bait beginning July 1 so we use a variety of techniques and tackle to catch these monsters. Artificial lures, laced with sardine or salmon roe, back-trolled, back-bounced, or drifted are the methods our guides use. This run actually begins to arrive during the last week of June and continues to the end of July when the King season closes. Numbers of Kings can run to several thousand per day during the peak in mid July. Fish average a bit larger than the early run with many trophies as well. Trophy hunters should remember that there are plenty of wallhangers taken from both runs.
Kasilof King Salmon
Located just 12 miles down the road from Soldotna is the glacier-fed Kasilof River which continues from Tustumena Lake to Cook Inlet. This river has a remarkable King salmon run that has become a favorite of many of our clients. Due to the shallow, rocky nature of this river it is navigated by drift boats. It is a peaceful adventure down a pristine river filled with lots of fishing action.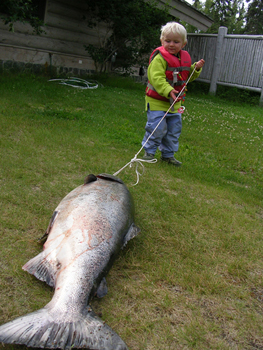 Fishing Regulations
Bait is not allowed until after MAY 15th. Prior to that date only single hook artificial lures are allowed.
Retention of hatchery fish is allowed 7 days a week and wild Kings are allowed to be retained on Tuesdays, Thursdays, and Saturdays.
Limit two fish per day of hatchery fish, or one hatchery fish and one wild King on days when wild retention is allowed.
This King salmon run begins at the same time as the early King run on the Kenai River. From mid-May through June anglers are most successful fishing from our guided drift boats. Bait is also allowed in this fishery. Multiple hook-ups are frequent. Kids really enjoy it because most days see enough action to keep them thoroughly focused on catching fish. This is a great experience on Sundays and Mondays when the Kenai River is closed to guided anglers.
Late Run
July 1st - July 31st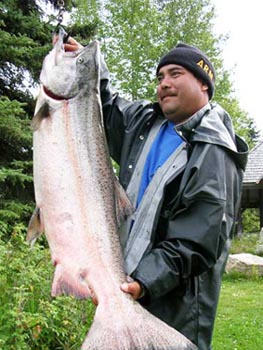 Same as above except:
Closed to guided fishing Sundays in July.
Multiple hook and bait allowed. One King allowed per day.
The Kasilof has an entirely wild return of late run native Kings. This late run of Kings in the Kasilof features big, hard fighting fish often exceeding 40 pounds. Fighting these big Kings with no motor in extremely fast current is a very challenging and memorable experience.
Kasilof River, Alaska
Kasilof River is a tidal-affected river 17 miles from Tower Rock Lodge. This shallow river begins at the glacier-fed Tustumena Lake and flows 22 miles northwest to Cook Inlet near the town of Kasilof, which was an original Russian trading post. The early run on the Kenai also coincides with an early run of Kasilof fish both hatchery and wild. Only 4 people are allowed in each drift boat. Fishing the Kasilof is a different from fishing the Kenai because motors are not allowed on this river during salmon season, making a trip down the Kasilof a very quiet yet exciting journey. Early run Kasilof Kings average 20 pounds and late run fish can grow to over 50 pounds. It isn't unusual to catch and release a steelhead or a few Dolly Varden during a drift down the Kasilof and of course the Reds and Silvers are plentiful in the correct season.