Alaska Sockeye Salmon Fishing
Alaska Sockeye Salmon Fishing Techniques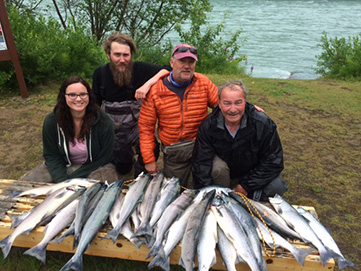 The fishing guides at Tower Rock Lodge are experts at fishing for sockeye salmon in Alaska. Here is their insight:
"The Red Salmon swims with its mouth in continual open and close motion, so the best technique involves getting the attractor as close to the mouth of the fish as possible. Whether you spin fish, or use a fly rod, the most effective attractors are a Coho Streamer or Russian River fly or some variation of these patterns with a #3 or #4 hook and just enough weight ahead of the fly to get to the fish depth. When casting, begin at an angle upstream of the spot you are fishing and try to keep the attractor broadside to the fish. When you feel a slight hesitation, or bump, you must set the hook immediately or you will miss. Sockeye generally lightly mouth the fly and let go. Once you begin to perfect this technique and hook one of these beauties, you are in for a fierce battle of wild leaps and reel smoking up and downstream runs. We love to use red salmon fish eggs as bait!"
Sockeye Salmon Fishing Regulations
Three sockeye salmon per day.
This limit may be increased to 6 per day by emergency order on very large return years.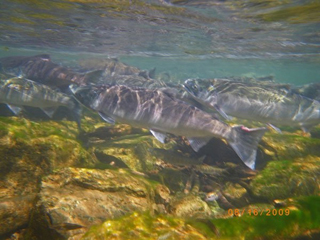 Timing
On the Kenai River the fishery runs from mid June through late August.
"Reds"
Known to Alaskans as "Reds," the Sockeye Salmon is historically the most commercially valuable fish, especially to the Japanese, because of its high oil content and ability to hold its red color in the freezer. Sockeye spawn in streams that have lakes in their watershed. Young Sockeye do not survive unless they spend between nine to twelve months in a lake before migrating to sea. The driving force that impels the Sockeye Salmon to migrate to its spawning bed is legendary. You need only watch them leap waterfalls and speed through fast currents to see their will to survive. These richly fleshed, speed demons average about 6-13 pounds and there is a limit of three per day. Later in the season, the limit is six per day. All are the perfect size for the "barbie."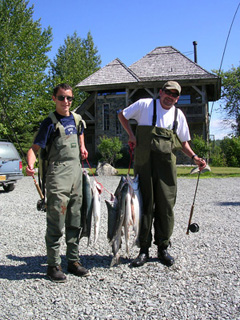 Sockeye Salmon Fishing Locations
From late May to mid August Red Salmon can be found in the Kenai, Kasilof and Russian Rivers. The Kenai River is the home to an enormous run of the "Reds." Although there is a smaller run that passes through the river in mid June, the much larger run of Sockeye Salmon is in mid July and that is the run that mainstream anglers target. Some years more than 2.5 million Sockeye return to the river to spawn. Many anglers may choose to go fishing from the river banks at the lodge on their own. Fishing usually begins in the second week of July and runs through about the third week of August. Tower Rock Lodge trips for late-run Sockeye grow more popular every season