The Alaska Fishing Experience
A Full Service Alaska Fishing Lodge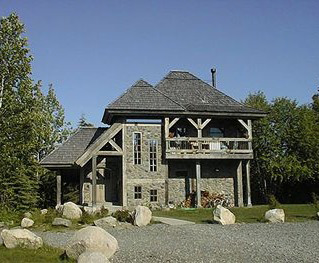 Welcome to Tower Rock Lodge - a world-class Alaskan resort on the banks of the world renowned Kenai River. The facilities at Tower Rock Lodge are built on a 7 acre parcel bordering 650 acres of federally protected wetlands, 12 miles up from tidewater. We are the only IGFA representative for South East Alaska. Not only can you fish right in front of the lodge, our riverfront compound also encompasses the Main Lodge, Orvis Log Dining Hall and the recent addition of four private en-suite log cabins. We offer a 19th hole putting green, horseshoes, fire pit and a fly casting practice area.
Our past clients, many of whom return on a regular basis, consider it the finest full-service lodge in the area. That reputation has been our goal since we first began our operation more than 20 years ago. With 20 hours of daylight and over a dozen places to fish throughout the summer, Tower Rock Lodge offers lots of ways to customize your ideal vacation itinerary. That's why we stand out.
Full Service means just that! Even before first contact, through the information on our website, we want to work with you to plan the perfect vacation. All you need to do is get here in that rental rig and supply the muscle power for reeling in all those fish! Everything else is taken care of, from comfortable, stylish sleeping accommodations and gourmet meals prepared by our French-trained chef, to state-of-the-art gear you will need.
The Main Lodge
Located on the historical "Old Ames Homestead" which belonged to Alaska's first game warden Warren Ames (before statehood), our main lodge was architecturally designed and constructed in 1992 from reclaimed timber and 40 tons of ocean rock from Prince William Sound. This home away from home features three bedrooms and two baths comfortably sleeping up to ten people. The top floor hosts a common living room area for all guests to gather or simply enjoy wonderful treetop views of the Kenai River. The existing world record King Salmon was caught in front of the lodge!
Private Log Cabins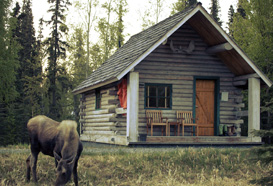 Constructed in 2003, we have three en-suite log cabins accommodate four people each and our last cabin will sleep five. All cabins have a living and sleeping area with its own refrigerator and private bathroom and shower. Complementing the stylish design are the individual covered porches. These cabins are wonderful for those who want a little more privacy.
Orvis Dining Hall
Nestled next to the Main Lodge, Orvis Dining Hall welcomes you each day for an early morning breakfast. At night it becomes the scene of world class culinary delight where East meets West! Creative combinations that showcase the talents of our European trained chef Mark Tuhy and his Thai wife Noonie will night after night tantalize your palate whether your are served seafood Pad Thai or "Alaska wild" mixed grill just to name a few.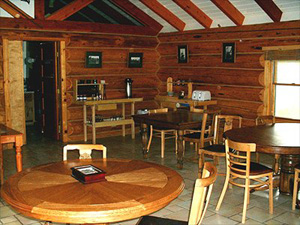 Breakfast is served early and dinner late; you'll fish hard in between. Lunch is always a welcome break, either at the lodge or while out fishing. All kinds of sundry items and fishing licenses are available at Red Diamond Liquor Store, about three miles from the lodge.
After dinner, don't forget to check the daily fishing schedule or other important communication posted every evening at 8:00 p.m. At any time, guests are welcome at Orvis Hall to use the high speed internet on a "first come, first served" basis, or enjoy an appropriate Cuban cigar!
Getting Here
We suggest that all our guests have a rental vehicle, and if time permits, you can fly into Anchorage and drive down through the Kenai Peninsula to our lodge. It's a spectacular scenic drive with many opportunities to see wildlife and Alaska's beautiful country along the way. The other alternative is to fly from Anchorage to Kenai on one of the 30 minute commuter flights and pick up your vehicle at the Kenai Airport, where most major rental car agencies are available; from there we are only minutes away. Find out more with our Maps and Directions.
Riverfront Dock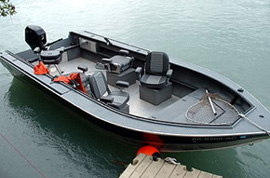 Boasting two separate docks, Tower Rock Lodge owns and operates four Willie Guide power boats and three drift boats. All of our guides, skippers and boats are Coast Guard licensed and approved as well as registered with Alaska Parks where applicable. For your safety, all watercraft are equipped with life jackets and are routinely maintained.
Your Host
Mike Tuhy, one of the owner/operators of Tower Rock Lodge, is extremely proud to be recognized and endorsed by Orvis, the premier fly fishing tackle company in the world. Mike offers fly-tying courses at the lodge, and the on-site library features a number of books and videos on fly fishing patterns, tying, history and literature. In the evenings, Mike also offers clients fly casting classes, including Spey rod techniques. He wants clients to appreciate not only the fishing but also the vast resources and rich history of the Kenai Peninsula.
On the Water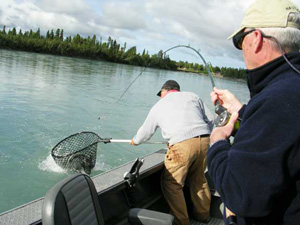 All of the river and ocean boats you will fish from as well as the guides & captains are Coast Guard licensed and approved. We use the latest in watercraft to provide you a comfortable and safe experience where catching fish and taking pictures are the only items on your agenda. We provide snacks or lunch plus all the bait and high-quality tackle you need. Guests on full package itineraries also receive free the first box of fish processed, packaged and frozen. Additional fish processing is available locally at a reasonable cost, including smoking and canning. You can take the frozen fish as baggage on the plane (most economical) or we can arrange to ship it to your home or office.
World Record Catches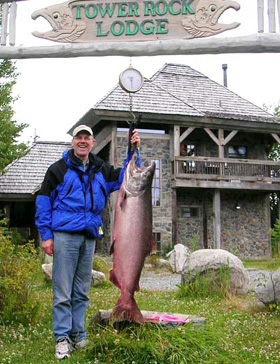 Additionally we are the Kenai Peninsula's only Field Representative for the International Game Fish Association (IGFA) which maintains all freshwater and saltwater world records. So if you're lucky enough to land the next world record, we'll be happy to assist you in processing the paperwork for submission. Each year there are King salmon hooked that are too big to land, and we all speculate that some of these could very well break the 100 pound mark if ever brought to the net. It makes for an exciting season each year where your very next bite might well make you famous.