Meet the Staff
Michael Tuhy, Owner and Operator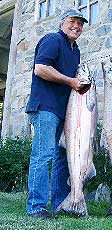 Hailing from Portland, OR, Mike washed up on the shores of the Kenai thirty years ago, threw anchor... dried off... and hasn't looked back since. Mike, with his identical evil-twin brother Mark, is proud to have raised the hospitality/culinary bar on the Kenai River to an uncompromising level. Hosting guests from all over the globe on unforgettable trips fly fishing, spin and whatever it takes (just short of a Dupont Spinner), Mike loves the fishing variety that the Kenai Peninsula offers. Mike's hand-picked, highly skilled and outstanding guides at TRL are always inventing new methods to catch bigger and bigger fish. Ask Mike about The Bead or the Charlie Murphy if you want a hearty laugh. Mike feels lucky and privileged to work with the best possible team in Alaska and wants you to be part of our fun, fishing family. Fish so big you don't have to lie about 'em!
"There are no problems, only solutions."
Mark Tuhy, Owner and Operator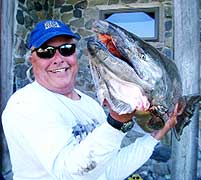 The other half of the formidable Tuhy twins, Mark is not only a fishing guide, but also a world-class chef. After he trained in Paris, France for a few years, Mark went on to open a couple of signature award-winning restaurants on the Big Island of Hawai'i. In addition to owning and operating this fine business, he is the Master of the Greenhouse and Protector of the Menu at Tower Rock Lodge. In the off-season, Mark lives with his wife Noonie and son Kenai in Bangkok, Thailand where he can be spotted on the golf coarse or chilling with a Chang beer. He has been known to have good luck with quad hook-ups but certainly is not a fan of getting corked, bad eggs or when his wife hooks more fish then he does.
"Buy a man a fish and he will eat it; buy a man a good fishing rod and he'll miss work!"
Mike Griffin, Director of Marketing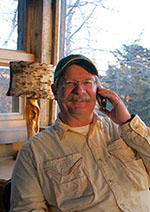 Griff moved to Sterling, Alaska with his family in the infamous summer of '69 and has made the Far North his home ever since. Captain Griff is also a local youth hockey and baseball coach! He has a love of sports and has been giving back to the community for more than 17 years. Griff lives with his one fat cat and enjoys spending time with his two sons. When he has a rod in hand, he's usually on the Kenai River, reminding himself and other anglers to keep a positive attitude.
Griff has been working for Tower Rock Lodge for two decades! He started out as a guide on the river and has since transitioned into the office as the entire Marketing and Sales Department. You'll likely hear from him when you book your trip with us; he's the friendly voice on the other end of the line, making sure you're getting the experience you want. Q: Hey Griff, why have you stuck it out with us at TRL for so long? A: "It's fun."
"The ox is slow, yet the earth patient." ~Zura, High Road to China
Joe Chambers, Senior Guide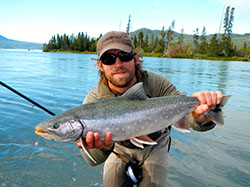 Dirty Joe has been coming to Alaska for the fish since 2009. Now in his 6th season guiding for TRL, Joe is our dry fly specialist from years spent fishing the high mountain streams of his native Colorado. This advanced open water diver also does fly-out salmon trips and can throw down a mean barbecue salmon along the stream in between back casts. Dirty Joe recommends using heavier line when fishing on the Kenai, bringing more roe than you think you will need, and giving up on predicting the weather in Alaska – be prepared for whatever it might throw! He offers this sage advice to anglers: "Listen to your guide because fishing is different in every location. Maintain a positive attitude and remember fishing is a privilege."
A bit of a nomad at heart, Dirty Joe spends his off-season wherever the wind blows him. This year, he hunkered down in North Carolina where he has been studying for a master's in environmental management. Joe is a Bronco's fan with a love of dual-sport motorcycles, aviation and diving. He's got a soft spot for small scale fisheries and economic incentives for sustainable businesses. With this combo of adventure-seeking and nature-loving, we feel privileged to have him on our team.
It's not just the location and diverse fisheries that keep Dirty Joe coming back to TRL; he fits right in with this laid-back, adaptable crew led by the Tuhy Bros. When he's not out on a trip, you might catch Joe at the TRL dock this summer, feeding his huge pet rainbow, Spot.
"Many men go fishing all their lives without knowing it is not fish they are after." 
~Henry David Thoreau
Bill "Bubba" Stromberg, Master Guide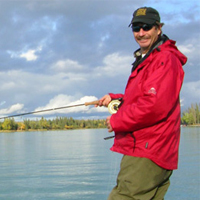 Bubba arrived in Kenai via Hawaii and Colorado. A twenty year stint in Telluride kept him busy matching the hatch on those blue ribbon rivers where he learned the art of the dry fly. Both Tuhys have fished with Bubba extensively and the dude never ceases to amaze them. A hard core trout fisherman without the ego is not only a pleasure to fish with but a veritable encyclopedia of fish information. Bubba guides river fishing plus fly out trips, consistently out-fishing the other groups. He truly walks the walk. He is a journeyman flyfisherman who is always ready to teach new tricks about the sport he loves.
Jason Kittel, Guide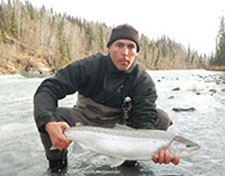 Originally from New Jersey, Big Game came to Alaska in 1997 when Uncle Sam shipped him north. Now with many seasons under his belt at TRL, Big Game has gotten his hands dirty in the kitchen and on the river. He came to TRL to catch fish and that's what he does best, living by his sage advice: "Keep your line wet." He spends his off-season in Colorado and Thailand, relishing the rivers and the lifestyle.
"Mai pen rai." (No worries, it's all good)
~Thai life philosophy
Brant Koetting, Guide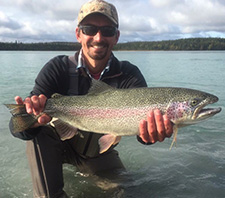 BrantX comes from sunny California... Missouri, that is! After going to university in Hawai'i, X left his one-horse redneck town in Missouri and went searching for adventure on Kodiak Island. Hoping to discover himself, he discovered fishing instead. X has fished all over the great state of Alaska and comes to TRL with several years of guiding under his belt. He's looking forward to the massive salmon run in the Kenai, where the trout will have their fill. His favorite spot to fish on the peninsula? The area of the Kenai from Skilak Lake to Bing's. Back at the lodge, X is a prankster and he knows how to have a good time. But at the end of the day he'll tell you, "When trying to net a big fish for a guest, don't blow it!"
When he's not fly casting and listening to '80s rock, X spends the off-season down on the Amazon catching monster fish he's never seen before. While he does love catching trout on flesh flies, he's making a study of life in the rainforest of Brazil. X offers this advice to all anglers: "Always double-check your knots!"
"Fish on!"
Isaac Hett, Guide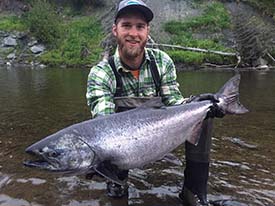 Isaac grew up in Marion, Kansas and has a degree in Outdoor Enterprise Management from Kansas State University. He's a key asset to the TRL team and loves helping the guests catch the "Big Ones!" Though fishing is his passion, he'll get his fair share of office work this summer, too! Back in Kansas, Isaac is a Hunter Safety Instructor and hopes to make good use of his teaching skills in guiding anglers on the Kenai. 
TRL is fortunate to have Isaac back in Alaska for not only his love of fishing, but for his jamming guitar skills -- you may see him playing a few tunes around the TRL camp fire. He's still enjoying the single life, which allows him to live by this motto: "Even a bad day of fishing is better than a good day of work.
"People only protect the things they love."
John Padgett, Guide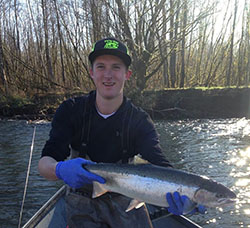 Johnny P first came to Alaska in early 2014 as part of the management team that opened the state's first Cabela's. He liked it up here so much he decided to put his own fishing guide service on hold to join the fun at TRL. Johnny P learned his fly casting instructor skills from two of the Federation of Fly Fishers greats, Bruce Richards and Dusty Sprague. Always looking to increase his knowledge of his prey, Johnny P has studied Pacific Northwest salmon ecology extensively. When he's not landing salmon in his native Olympic Peninsula, this experienced angler likes to travel to different corners of the US where he can catch something new. He is a strong believer in every novice angler's innate ability to learn the art of fly fishing and he offers this bit of advice to all of his students: "You don't need a $500 fishing rod to catch fish, but it sure looks pretty until it breaks!"
There is no greater fan of fly fishing than the worm. ~ Patrick F. McManus