Single Day Alaska Fishing Charters
Single Day Fishing Trips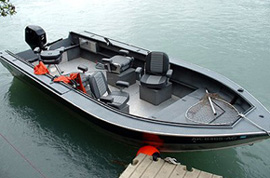 For vacationing anglers who have put together their own itinerary and are constantly on the move, Tower Rock Lodge can accommodate your tight schedule with a single-day fishing trip, saltwater charter, or same-day fly-out.
Read below for information on each type of charter trip. Fish for saltwater halibut, salmon, trout, or hop a plane for a single-day fly out!
Halibut Fishing Charters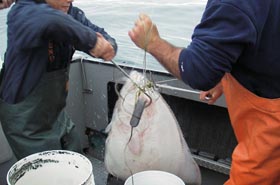 Saltwater charters for Cook Inlet halibut are continuous from May through September. Seasonally there are opportunities to offer combo halibut/salmon trips from the beaches at Deep Creek. Your trip could start with trolling for chinook migrating through the area and end up fishing for halibut the remainder of the day. Contact us for the details. There are also opportunities for halibut trips out of Homer as well as halibut and rockfish trips out of Seward. During August and September there is plenty of red hot saltwater silver salmon fishing available out of Seward.
Salmon Fishing Charters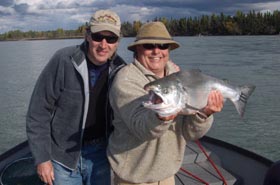 Salmon charters can provide fishing in either the Kenai River or the Kasilof River. Kings, Silvers and Sockeye are all available in these streams at specific times of the season. Each stream has an optimum time when these fish are most available, so please refer to our When To Fish section to learn what will be available during your visit.
Since our salmon runs have specific periods when they are available as well as when they are most abundant, we suggest that you review our Alaska Fishing section that discusses each of the species, their runs and location. This will provide you the "insider information" necessary to pick the perfect time to visit and fish the Kenai Peninsula.
Trout Fishing Charters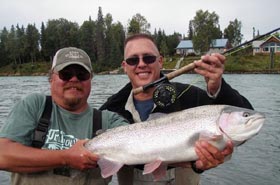 Trout fishing on the Kenai River is nothing short of remarkable. The lower Kenai River trout season can begin as early as May for resident Dolly Varden while the upper Kenai River kicks into gear in mid-June when the season opens and both provide continuous fishing possibilities through the end of September. We fish the upper Kenai River with drift boats in the non-motorized section and the lower Kenai River with power boats or drift boats depending on the time of year and access. The USFWS has estimated the upper Kenai rainbow population as high as 2000 trout per mile.
Single Day Fly-Out Charters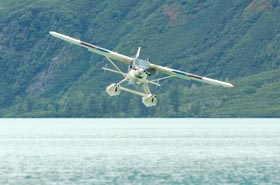 Literally every sport fish found in the state can be accessed by floatplane within 2 hours from the Kenai area. Our day trip flyouts are for sockeye from early June to late July where brown bears will be fishing next to you. Our most popular late summer day trip flyout is for fresh ocean-bright silvers entering a coastal stream beginning in late July to the end of August. Call us for a price estimate, which will vary depending on the fishery you want to book and your group size.
Reservations
A 50% Deposit is required within Ten (10) Days in order to guarantee your Reservation. A refund equal to 50% of the total package price per person will apply on reservations canceled within 60 days from the date of arrival. Cancellations made less than 30 days prior to the date of arrival will result in the forfeiture of the full payment. For your convenience we accept all major Credit Cards and Personal checks. "Tower Rock Lodge" reserves the right to cancel or alter any package or itinerary as existing conditions may require, and is not responsible for emergency regulatory changes which the Dept. of Fish & Game may impose on specific fisheries.