Alaska Wildlife Viewing
Fly-In Fishing and Bear Viewing Trips
Kustatan River, Big River Lakes, and Crescent Lakes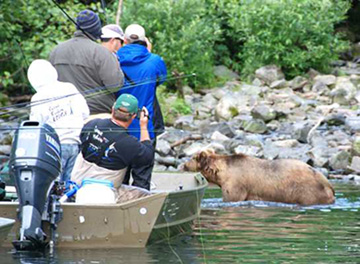 Trip route: Fly west across Cook Inlet to an area at the base of the Alaska Range. Depending on which location you fish, flight time is 20-25 minutes each way. The season is late July, August and September. Limit is 3 Silver Salmon fish per person, per day.
The trip duration will be approximately 8 hours. All rods, reels, bait and hip boots are provided by Alaska Air West, and Tower Rock Lodge will provide lunch and rain gear.
Flight Time: 20 to 25 Minutes each way.
Seasons: Late July, August, September.
Species: Silver Salmon and Reds
Wolverine Creek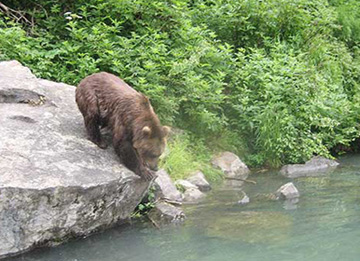 Trip route: This trip is great for clients. Just a short flight across the Cook Inlet and you will be viewing bears from an 18-foot Jon boat. Your guide will maneuver the boat into areas where you can always view bears close up, but safely.
Trip duration: approximately 8 hours. Be sure to bring your camera on this one. All rods, reels, bait and hip boots are provided by Alaska Air West and Tower Rock Lodge will provide lunch and rain gear.
Flight time: 30 minutes each way
Seasons: Late July, August, September (Bear Viewing best mid June-September)
Species: Silver Salmon and Reds
Bear Etiquette
If you encounter a brown bear:
Try to remain calm, never run, yell, or make sudden movements; slowly look for best exit.
Identify yourself as human. Talk to the bear in a low voice and slowly back away; "Whoa Bear"
Don't make direct eye contact, but keep a close eye on the bear as you back away.
Stay close to others and keep backpacks on, unless there is food in your backpack in which case, give it to your friend.
Never get between a mom and her cubs.
If you are carrying bear pepper spray, this is the time to use it; Then RUN faster than the friends you're with!
If you have a fish on the line, let it go as the bear will hear it "flappin" and the drag zining and soon will come after it, and you! Don't worry about the gear or your fish we can replace all that, and wash any undergarments.
In the extreme case that a bear makes contact with you: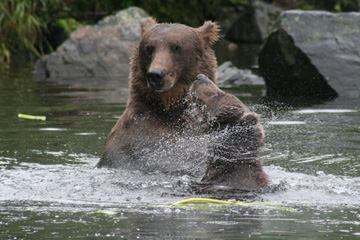 Play dead
Lie face down on the ground and place your hands around the back of your neck.
Stay silent and don't move.
Try to keep your legs spread apart to prevent the bear from rolling you over.
If possible, leave your pack on to protect your back.
Typically a brown bear will break off its attack once it feels the threat has been eliminated.
Remain quiet and motionless for as long as possible.
Bears will often watch from a distance and return at the first sign of movement.
Humpback Whales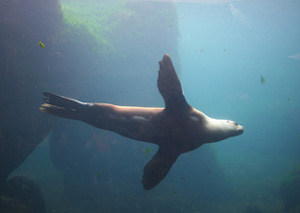 Although humpbacks may be seen at any time of year in Alaska, most animals undertake long distance migrations during the autumn to temperate or tropical wintering areas where reproduction occurs and the young are born. During spring, the animals migrate back to Alaska where food is abundant. Humpback whales that summer in the north Pacific are from three separate stocks which winter in Mexico, in Hawaii, and in the western Pacific near the Mariana, Bonin, and Ryukyu islands. Whales that summer in Alaska are primarily from the Hawaii stock. Although the length of time needed to make migrations is not well known, one whale that was identified in Alaska was seen 39 days later in Hawaii 2,800 miles (4,500 km.) away.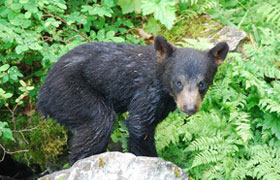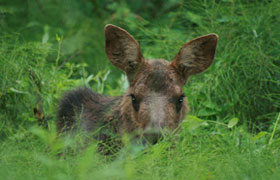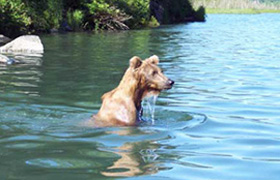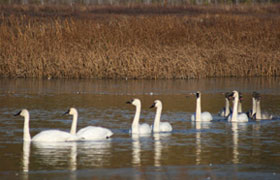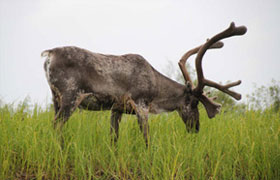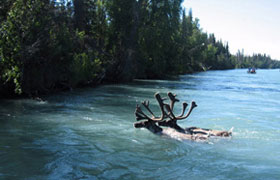 Allow Tower Rock Lodge to be your Alaska Wildlife Viewing guide. On our wildlife viewing trips, you will experience Alaska's wildlife at its best. We offer bear viewing and sightings, humpback whale viewing, as well as other Alaska Wildlife. Call today to book your trip.