"We had a great experience. Very professional operation with great people, great fishing and great food throughout our stay." — Randy W.

"This is without a doubt the best Alaskan fishing experience to be had. I would never go anywhere else! — Constance K.

— Alaska Fishing Packages —
Announcing TRL's "Kenai Airport Pickup – You won't need a rental car!"
Call Griff for details!
We offer the best all-inclusive fishing packages and vacations in all of Alaska. You can expect first class accommodations, gourmet meals, all fishing tackle, bait and guided fishing services. All of our packages include fish processing, cleaning, vacuum packing, freezing and boxing your catch. Below are our most popular fishing vacation packages. If you don't find what you're looking for, give us a call and we will customize a package for you.

View all of our various Alaska fishing packages for more information and details.
"Kings on the Fly,
or Knot"
This package is for those who want to catch a King Salmon on a Fly Rod (or not). Excellent for walk & wade fisherman who want to battle mano-a-mano with big salmon.
$2995
Details
Grubstake's
June Fishing
Homesteaders favorite to fill your freezer. 6 days / 5 nights of great value. You'll fish Cook Inlet saltwater for halibut as well as three trips in the local rivers for Kings and Sockeye salmon.
$3850
Details
Cheechako

This all inclusive 7 days / 6 nights fishing package, is a Tower Rock Lodge favorite and has everything you needed to make your Alaskan dream come true.
$3850
Details
Orvis Ultimate

8 days – the best of the Kenai River. This is the Ultimate fishing package, including fully guided fishing trips for Halibut, Trout, Salmon and a Fly-out Fishing Trip.
$4450
Details
Orvis Trophy Trout & Silver Salmon Package
We have designed a special experience primarily for Rainbow and Silver Salmon fishers who want to focus on some quality fishing time in serene autumn settings.
$2995
Details
Steelhead-ology
Orvis University
Max 12 guests, two sessions only, beginning October 1st to October 7th. This package is for 3 nights and 2 steelhead trips. Includes personalized Spey & single hand fly-casting lessions.
$4450
Details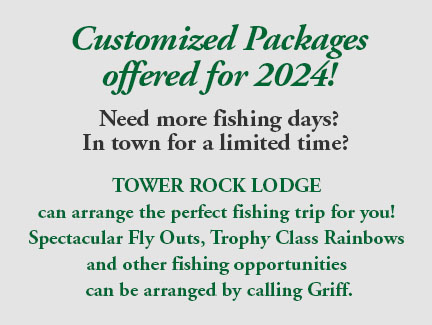 Alaska Fishing
At Tower Rock Lodge, we offer all the fishing you can ask for. Located in the heart of the Kenai Peninsula on the Kenai River, we give you the best opportunity to visit a large number of Alaska's hot fishing spots during a single visit. The Kenai River is one of the most productive areas in Alaska with a five month fishing season. We offer several guided fishing experiences. Start with King Salmon Fishing, Sockeye Salmon Fishing, Silver Salmon Fishing, Trout Fishing or Halibut Fishing. We also offer Flyout Fishing. Take a look at our Great Alaska Fishing Packages, which are all designed for you to get the most fishing out of your fishing vacation. We offer the best value and competitive pricing. Click here to compare Alaska fishing lodges to Tower Rock Lodge.
Find out more about planning an Alaska Fishing Vacation to Tower Rock Lodge, fishing on the Kenai River, and the experience that you can expect from a vacation at our lodge.
[Tower Rock operates certain drift boat trips under a special permitted area on the Chugach National Forest]