Alaska Fishing Trips
Vacation Planning
Much More Detail
Whether you are interested in choosing one of our Complete Vacation Packages or just want to book a charter trip, there are several things to consider when planning your vacation. Below are some planning points and other information about what you can expect from your fishing vacation at Tower Rock Lodge.
Getting Here
Finding our lodge is easy - check out our page of Maps & Directions. Our guests arrive either by renting a vehicle in Anchorage and driving down to our lodge, or flying into Kenai and renting a vehicle locally then driving a few minutes to Tower Rock Lodge.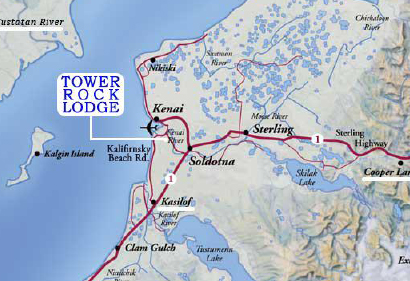 (click map for a wider view)
If you have a few extra hours on each end of your trip, consider driving from and back to Anchorage through the Kenai Mountains. The scenery is splendid with many chances to view wildlife, beautiful streams, rivers, lakes, and mountainous settings during this three hour drive on a newly refinished highway.
Decide &Reserve Early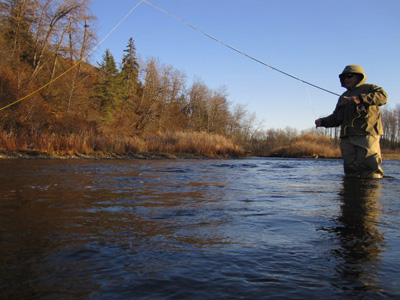 Surveys indicate that nearly 40% of all fishing done in Alaska occurs on the Kenai Peninsula and in our local saltwaters, so you should make plans and reservations as early as possible. There are a limited number of guides and charter skippers in the region, and more importantly, there are very limited numbers of days for each particular species or run. As an example, the Kenai River king fishing regulations allow guided fishing only on Tuesday thru Saturday, so the July king salmon run accounts for a mere 23 days of guided fishing for that run. We advise you to contact us as soon as you have picked a date in order to insure that we have available rooms and open seats on our boats
Weather
Early summer will have temperatures in the 40's and 50's with mid-summer temperatures reaching into the 70's on some days. Rain is always a possibility during Alaska's summers. Wearing layered clothes and bringing lightweight rain gear will prepare you for all the possibilities. A hat and polarized sunglasses are highly recommended as well as a good sun screen for sunny days. And always remember to bring along your camera to capture the excitement of your trip.
Fishing Trip Durations
Full day salmon trips last about 9 to 10 hours and usually begin at 6am. Halibut trips are about 10-12 hours long, whether they are out of Seward, Homer or Deep Creek. Trout fishing trips run about 8 hours. The flyout fishing trips are most often 8 hours of fishing although special or custom flyout trips may run a full day, from morning to early evening. Snacks are provided on our short trips and lunch is offered for the all day excursions. You can also bring whatever additional snacks and drinks you may want. There is plenty of storage on all the boats.
Planning Halibut Fishing Trips & Clamming
When planning Halibut and clam digging trips here on the Kenai Peninsula it is necessary to take into consideration when the minus tides occur. A minus tide set occurs twice each month which affords plenty of opportunity to dig a bucket of razor clams to take back in your fish box as an additional bonus. The Tide Table posted above lists the lowest part of the tide series during each week long set but clamming can be done during a few days on each side of this period.
For halibut fishing the lowest days of the minus tides mean larger volumes of water are exchanging in and out of Cook Inet during each tide change. This usually means fishing with heavier weights to hold the bait on the bottom, but then again, many of the largest halibut have been caught during these periods because the scent line extends much farther from the bait and so draws fish from farther distances. It can mean a little more work for reeling in to check your bait with the extra weight so if you prefer to have a little easier time cranking in those fish you can plan to do your halibut fishing on the days which aren't the lowest tides of the set.
Other Things to do
Having a rental car will allow you the freedom of exploring our area when you aren't out fishing. The Kenai Peninsula is southcentral Alaska's recreational playground so there are many things to do. There are visitor centers, museums, beluga whale watching, clam digging on the right days, wildlife viewing, shopping and plenty of sightseeing within a short drive of our lodge. Oh yeah....if you haven't had enough fishing thrills for the day, there is always the chance to fish from our exclusive five acres of riverbank for trout, dollies, and seasonally for sockeye and silver salmon.
Fishing License &King Salmon Stamp
All fishing trips and clam digging require an Alaska fishing license. If you plan to fish for king salmon you will also need to purchase a King Salmon Stamp. There are different rates for resident and nonresident anglers. See the License and Stamp chart above. The king salmon stamp is not required if you are fishing only for halibut, trout, silvers or red salmon. You can get your license in advance at the Alaska Dept. of Fish & Game.
Taxidermy &Fish Processing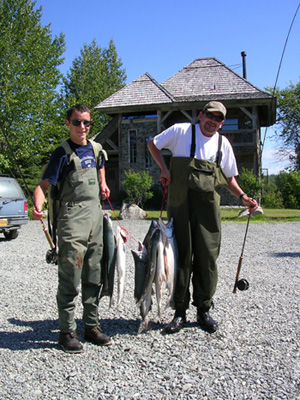 Since the Kenai River is famous for producing great numbers of genuine braggin' size wall-hangers, we are fully prepared to assist you in getting your trophy to a local professional taxidermist if you choose to have it mounted. Skin-mounts and fiberglass mounts are available and can be shipped directly to your home when they are complete.
Most of our fishing/lodging packages include full processing of one box of fish per person. This includes cleaning, cutting, vacuum-packing, freezing and boxing. If you have more than one box of fish per person, additional processing is available for a nominal charge. For anglers who go on single day trips, we can clean and bag your fish so it's ready to be transported to where you are staying.
Our Equipment
We provide state-of-the-art fishing tackle, fly rods, flies, baitcasters, bait, lures and equipment (waders, rain gear, etc.) while you're fishing on any of the Lodge charters. You may provide your own freshwater tackle if you wish. Fly rods should be five to six weight, with the reel(s) filled with floating line(s) and at least 100 yards of backing. Include in your fly selection: egg simulators, glo-bugs, flesh patterns, leeches and muddlers/sculpins. Salmon/steelhead rods should be medium- to fast-action graphite rods, 8- to 10-feet long, combined with level-wind reels with 20-30 lb. test line. Light spinning outfits for trout fishing should be in the 6-12 lb. range. We want to make your vacation experience as worry-free as possible so you can leave your gear at home. We also have a completely outfitted fly tying bench at the Lodge for those who want to tie up some additional selections.
Boats &Fishing Guides
All the boats you will fish from as well as your guides and skippers are Coast Guard licensed and approved and registered with Alaska Parks where applicable. The saltwater charter boats are equipped with a cabin to keep you warm, dry and comfortable during the run out and back as well as for eating your lunch and stowing your gear.
Meals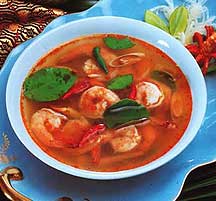 You will enjoy our gourmet meals prepared by Mark Tuhy, our French-trained chef. We can also cater to those who have special dietary needs if you give us advance notice. The liquor store is a few miles from the lodge if you want to purchase additional wine, whiskey or barley pops. Mark is constantly expanding his versatility and repertoire to present a world class dining experience for our clients. During the winter of 2004 he embarked on a trip to Thailand to study Thai cooking and modify that style and taste to some of his Alaskan dishes.